Our Work
The Academy bridges the gap between evidence-supported interventions and practice in community settings. We aim to:
Match social service providers with good-fit behavioral health skills
Support providers to manage the emotional demands of their work and care for their own wellness
Invite providers and community members to adapt promising interventions to real world settings, point out gaps, and generate new solutions
Promote shared learning and capacity building across social service providers and behavioral health specialists
Create more effective care pathways in communities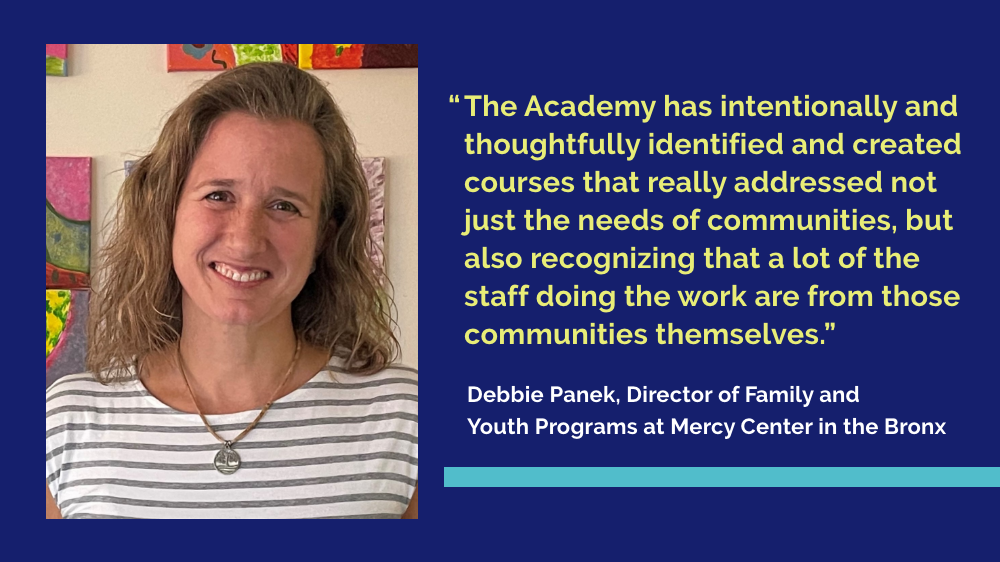 We provide services in three areas:
Free Courses for NYC Social Service Providers
We offer a range of free programs that address different learning needs and learning outcomes for individuals, teams, and organizations. These include:
Conversation & Speaker Series
Brief Learning Series
Skills-Based Certificate Programs
The Academy currently delivers all free courses virtually.
Custom Services for City & State Agencies and Others
We partner with government agencies and others who fund, manage, or deliver social services in New York City. Our custom services are tailored to specific audiences and outcomes, and help advance integrated behavioral health and social services. They include:
Specialized capacity building programs - including training, coaching, implementation support, and other assistance - for specific providers and/or communities
Supporting agencies to design and manage new program models that address behavioral health along with social and economic needs
Hub for Collaboration and Knowledge Building
Through our programs and partnerships, we generate new knowledge and collaborations for community-based behavioral health.
Current projects include:
Co-designing new 2023 courses with community-based organization and City agency staff
Collaborating with the CUNY SPS Youth Studies Program to support youth peer mental health advocates
Participating in the Harlem Strong Community Stakeholder Planning Council
Current focus areas include:
Grief & Loss
Mental Health Impacts of Inequality
Stress, Trauma & Post-Traumatic Growth
Motivational Interviewing
Care Pathways
Supervision & Leadership
Diversifying & Strengthening the Mental Health Workforce
Wellness
Best Practices: Learning & Capacity Building